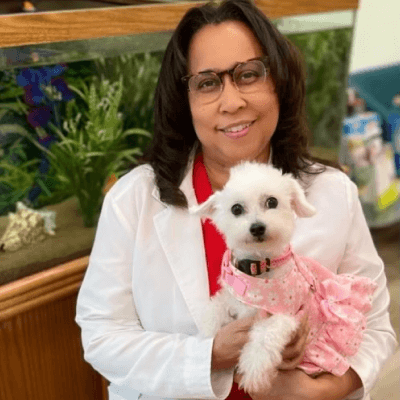 Cecily Jennings, BS, DVM
Owner/Veterinarian
Dr. Jennings is an esteemed graduate ofTexas A & M College of Veterinary Medicine. She has been practicing Veterinary Medicine for more than 30 years in the Houston area. She is USDA accredited a member of the American Veterinary Medical Association, Texas Veterinary Medical Association, the Pearland Chamber of Commerce and her local civic association.
"Why did I start Haven Veterinary Clinic? "Coming from a family and community that loves their pets, I did not see many womenor persons of color as practice owners. I wanted to provide that bridge of mentorship while having the chance to connect with pet families over things that actually matter to them every single day. I can't imagine a more fulfilling career than being part of a profession focused on healthcare for animals, preserving the connection between humans and pets while keeping the community educated. I am very grateful my father was a part of this dream before his passing, he and our family pet Ditto of 22 years in my heart."
When not caring for patients, Dr. Jennings enjoys time with her faith, family, friends and two dogs Strawberry and Chloe. Savannah
Pet Comforter
Savannah loves all animals and enjoys making sure they are well cared for and comfortable while away from home. She will talk to them and read stories, giving them the attention they need. She also happens to be Dr. Jennings's granddaughter!
Lynnlee F.
Practice Manager
Lynnlee graduated cum laude from the University of Louisiana at Lafayette (Geaux Ragin' Cajuns!) with a bachelor's degree in Sustainable Agriculture with an animal science concentration. After working in the retail field during college, she began her career at pet hospitals.
When she's not working, Lynnlee enjoys burning calories at HOTWORX and spending time with her family. Jesus follower and NGEN radio listener. #ShiftTheCulture Her furbaby in the photo: Wembley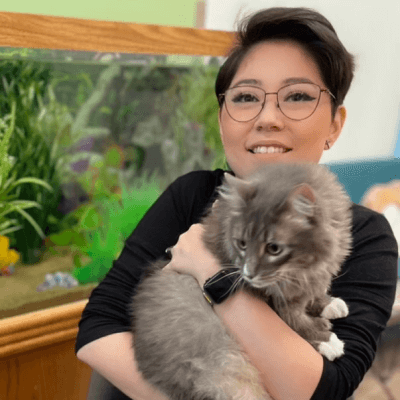 Nicole L.
Client Care Specialist
Nicole attended the Dr. Kirk Lewis Career & Technical high school and graduated with her veterinary assistant certification. She takes care of the front desk and helps the other assistants when needed. Nicole has been with the team since we first opened in 2018.

When Nicole is not working, she spends time with her friends, family, her two dogs Bailey and Arial and her cat Mochi. She enjoys video games, specifically Undertale and reading young adult fantasy books.
"There's a lot of beauty in ordinary things. Isn't that kind of the point?" - The Office
Alyssa B.
Senior Veterinary Assistant
Alyssa started in veterinary medicine 8 years ago, and fell in love with the profession. She has loved animals since a very young age and couldn't imagine not working with animals in some way. She plans  to finish her B.S. in Biology from the University of Houston soon, and eventually go on to become an Animal Rehabilitation Therapist. She has many fur babies of her own, including: a Dutch Shepherd named Dirty, a Pitbull named Blue, a Ragdoll named Wolfie, and a Domestic Shorthair named Charlie. Family is the most important thing to Alyssa, so she spends most of her free time outdoors with her husband and 2  1/2 year old. She also cares for her parents, who are her biggest supporters.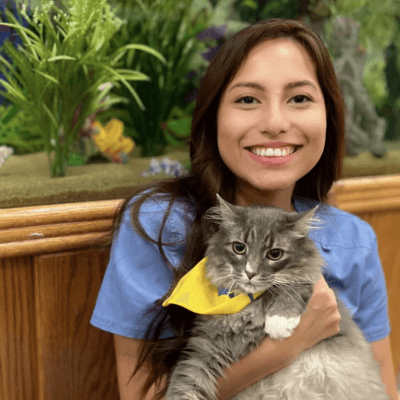 Leslie P.
Veterinary Assistant
Leslie earned her B. S. in Biology from Texas Southern University's Honors College with the goal of attending veterinary school in the near future. She loves to educate others and tutored  K-12 and college students for Spanish, English, Science and Mathematics during her college years. Last year, she participated in ongoing research at the Medical Center's Children's Nutrition Research Center in hopes of creating edible therapy to fight against worldwide malnourishment in children. There she learned about the interchangeable service between Veterinary Medicine and Public Health.

During her free time she enjoys volunteering at the Houston SPCA and it's Texas Wildlife Center. She is also dedicated to spending quality time outdoors with her family and indoors with her cats: Gordo, Dusty and Cookie.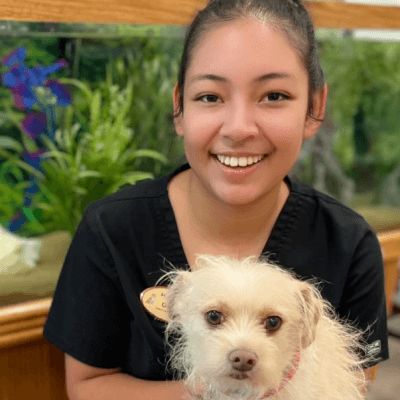 Gaby H.
Veterinary Assistant
Gaby is a veterinary assistant who was inspired by her childhood dog, Rocky, in choosing to pursue a career in veterinary medicine. Before working with us, she started her veterinary career as a kennel attendant while attending school.
 
Gaby is excited about joining the team here at Haven Veterinary Clinic! She loves working with animals and has always dreamed of being able to do so professionally. Gaby truly loves working with animals and has two fur babies at home named Myra & Shadow. She knows that every animal has a story—and she wants to help them all! Elyssa M.
Licensed Veterinary Technician
Bio coming soon.