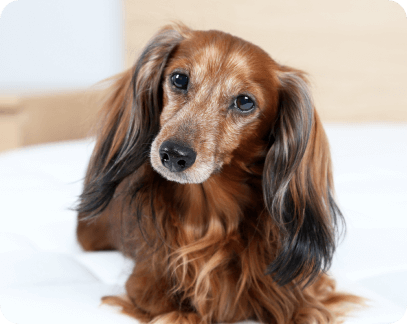 Cancer Screening
Early cancer detection in dogs with a simple blood draw
There is a first-in-class multi-cancer early detection test developed specifically for canines, and we have partnered with OncoK9 to offer these screenings to you and your dog. OncoK9 utilizes the same cutting-edge genomic sequencing technology that has revolutionized early cancer detection in human patients.
Cancer is by far the single most common cause of death in adult dogs—approximately six million are diagnosed with the disease annually in the United States. Unfortunately, it is typically diagnosed in an advanced stage when treatment options are limited. All too often, it cuts short the lives of dogs who might have enjoyed many healthy years with their families had the disease been found sooner. Early detection provides the greatest chance of a successful outcome.
OncoK9 can detect 30 different cancer types, including eight of the most common cancers in dogs. It is recommended as an annual screening test for all dogs starting at 7 years of age and at younger ages for dogs belonging to breeds that are predisposed to cancer.
As with any laboratory test, OncoK9 results should be interpreted by a veterinarian in the context of each patient's medical history and clinical presentation. The test is available by prescription only.
The OncoK9 screening is only $554, and you'll save $55 when you add it to our senior wellness package for dogs. If you have questions or would like to have your dog screened with the OncoK9 test or have it added to your dog's wellness exam, please call us at (713) 344-1570.