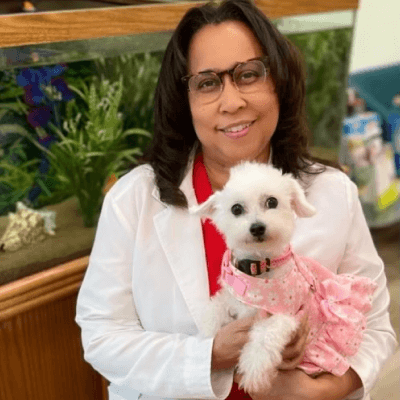 Cecily Jennings, BS, DVM
Owner/Veterinarian
Dr. Jennings is an esteemed graduate ofTexas A & M College of Veterinary Medicine. She has been practicing Veterinary Medicine for more than 30 years in the Houston area. She is USDA accredited a member of the American Veterinary Medical Association, Texas Veterinary Medical Association, the Pearland Chamber of Commerce and her local civic association.
"Why did I start Haven Veterinary Clinic? "Coming from a family and community that loves their pets, I did not see many womenor persons of color as practice owners. I wanted to provide that bridge of mentorship while having the chance to connect with pet families over things that actually matter to them every single day. I can't imagine a more fulfilling career than being part of a profession focused on healthcare for animals, preserving the connection between humans and pets while keeping the community educated. I am very grateful my father was a part of this dream before his passing, he and our family pet Ditto of 22 years in my heart."
When not caring for patients, Dr. Jennings enjoys time with her faith, family, friends and two dogs Strawberry and Chloe.